8th Annual
Silent Auction
October 1 – 31
To celebrate National Pasta Month, we are holding our 8th Annual Silent Auction – featuring a pink Arcobaleno AEX5 Home Model Pasta Extruder! The winner will also receive 3 pasta dies of their choice.
Arcobaleno will match and donate all proceeds from this auction to the Lancaster Science Factory here in our community. For more information about the Lancaster Science factory, visit www.lancastersciencefactory.org.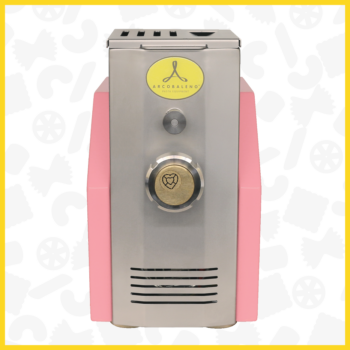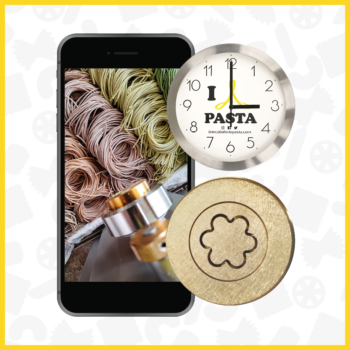 Pasta Die Giveaways
October 1 – 29
Follow us on Instagram and email a photo or video using your Arcobaleno pasta extruder for a chance to win 1 free pasta die of choice!* The winning entries will also be featured on our social media. One winner will be drawn each Friday for four weeks, starting Oct. 8th. All entries will receive an Arcobaleno clock while quantities last.
Accepting entries Oct 1 – 29. Winners and weekly updates will be announced on our Instagram!
*All entries will be entered into a random draw each week for 4 weeks. Winner will receive 1 free pasta die of choice and their entry will be featured on Arcobaleno's social media. No repeat winners. Limit 1 entry per location per week. Arcobaleno Models AEX5, AEX10, AEX18, AEX30, AEX50, AEX90/90M, AEX130/130M, AEX440/440M and AMFE50 are eligible for this giveaway.
7th Annual
Buy Two Get One Free Pasta Die Sale
October 17 – 31
October 17th is National Pasta Day and will kick off of our 7th Annual Arcobaleno Pasta Extruder Die Sale. This year we are offering Buy TWO Get ONE FREE all standard dies. The sale will run through the end of the month.
The Pasta Extruder dies included are ONLY Standard Dies for Arcobaleno Models: AEX5, AEX10, AEX18, AEX30, AEX50, AEX90/90M, AEX130/130M, AEX440/440M and AMFE50.
The Lasagna Die and Penne Dies are not included in this sale.
There is no limit, so stock up while you can!