Southeastern Pennsylvania is the continent's pasta powerhouse!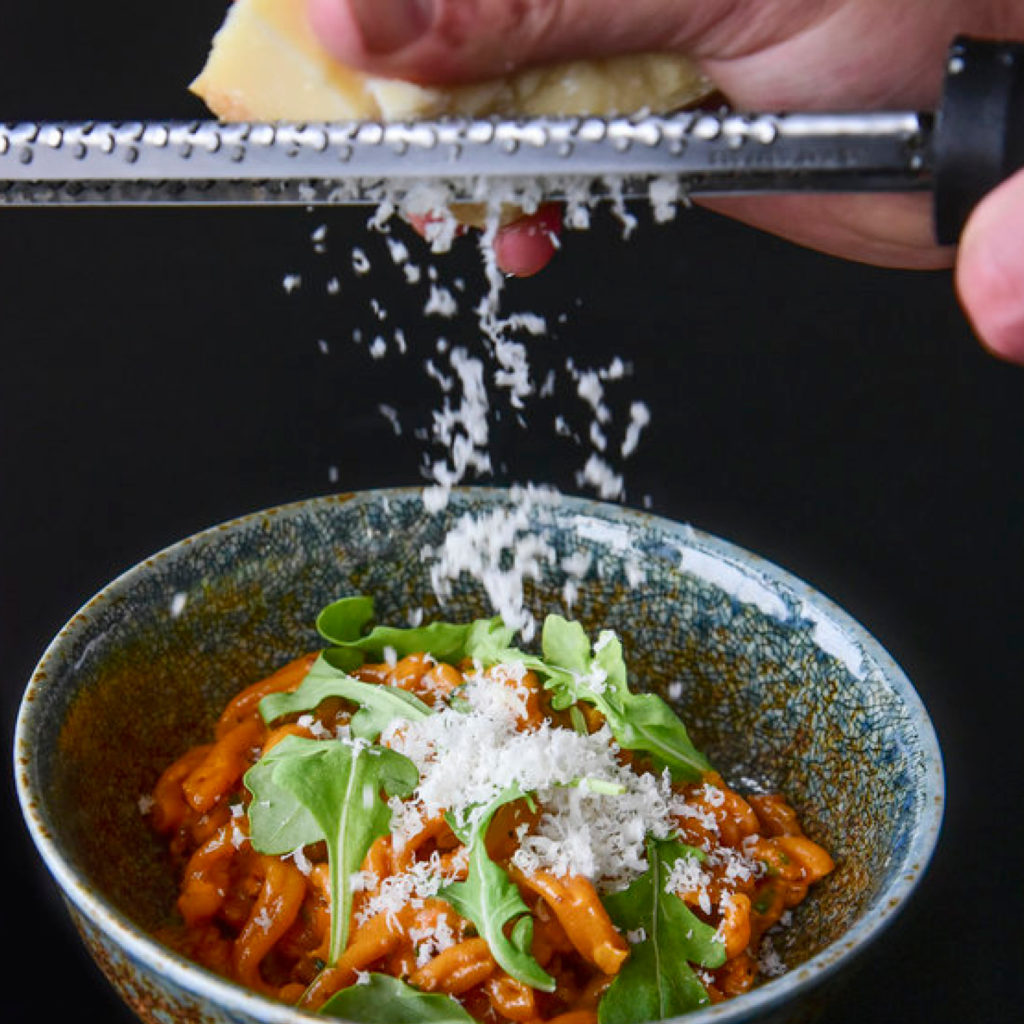 by Craig LaBan, Food Critic
As with all things pasta and Pennsylvania, the origins of our latest restaurant noodle boom  wind  back, in part,  to the influence of Marc Vetri, the chef who wrote the book Mastering Pasta (Ten Speed Press, 2015), and who loaded up his crew into a truck a dozen years ago and drove west in search of a serious industrial pasta extruder for Osteria.
An "extruded" noodle, long the province of commercially made boxed dried pastas, is at its most basic a dough of flour and water pushed under high pressure through a metal die, and it has the ability to take on a variety shapes with "al dente" snap that supple pastas made by hand with eggs cannot easily achieve. And Osteria's machine, which could crank out 50 pounds an hour, was a next-level commitment to noodlecraft that was a first in any local restaurant.
But the movement has picked up steam over the last few years with the introduction of new, smaller pasta machines. And it's brought a noticeable upgrade to one of the most elemental aspects of local restaurant menus, from obviously Italian kitchens like Restaurant Alba and Trattoria Carina, where delicately grooved little pasta shells cradle spicy crab gravy, to more experimental pasta showcases like High Street on Market and Charcoal BYOB in Yardley, where an inventive new flavor emerges seemingly every day.
As the trend begins to take creative turns far beyond Italian tradition — gochujang gemelli? sourdough spaghetti? red wine-infused rigatoni? — this story has acquired a broader cast of players, including a series of other craft-minded chefs and a local company, Arcobaleno, that is the largest manufacturer of pasta equipment in North America. Taken together, their efforts illustrate how changing technology, the virtues of geography, and a healthy culture of chef collaborations have begun to alter our restaurant landscape, both on menus and on the bottom line. And as scores of restaurants begin to take more artistic control of their noodles, and not just the sauce that goes on them, even some of the most basic assumptions about food have been challenged.
"Once you realize that pasta is just flour and water, you can ask the questions: What is flour? What is water?" said H. Alexander Talbot, a Doylestown consultant who writes the influential culinary blog Ideas in Food with wife Aki Kamozawa. The couple, who wrote a book by the same name and who run Curiosity Donuts at Stockton Market, which was just named a semifinalist for a James Beard Foundation award, have experimented with all manner of solids for pasta (local wheat, cocoa, pumpernickel, peppercorns) and hydration possibilities (jalapeño puree, red miso, ketchup). "Once we had heavy bronze dies and a bad-ass piece of equipment, we had the ability to change the game."
The extruded pasta boom is not simply about making wacky noodles. It's given chefs the ability to customize small batches of core ingredients they previously had no other option but to outsource. Westmont's Severino Pasta Co. has long been a high-quality option for those who aren't ready to invest in the machinery. But for those who are, extruding pasta in-house tends to be a revelation of refinement, efficiency, and profit.
"The bite that extruded fresh pasta offers is incomparable," said Sean Weinberg of Restaurant Alba in Malvern. "It's also more forgiving than our hand-rolled egg pastas … and has made us more consistent."
"A fresh extruded pasta should be a pleasure to chew," agreed Taylor Mason of Luca in Lancaster. "It's bouncy and lively in a satisfying way I never found in imported dry pastas."
Eli Kulp is an alum of New York's pasta palace Del Posto, and his Philadelphia restaurants Fork and High Street on Market make some of the most inventive extruded pastas in town, from seaweed-infused bucatini to "burnt grain" campanelle trumpets with wild boar ragù. He still believes there is a place for high-end imported dry pastas, especially for longer shapes that, when cooked properly, still have a unique snap and starchy "slurpability."
But rarely are dried pastas either high quality or properly cooked from dried to order. With a 12- to 15-minute turnaround for dried pastas, most restaurants typically par-cook them and rinse the starch. Fresh extruded noodles, by contrast, take only three to five minutes to cook from raw.
"That's a huge win during service," Kulp said. "It's all about speed. And to make some of these shapes by hand, you're talking 15 minutes to do one order."
The initial investment is considerable, with machines that hover around $5,000, plus a nearly equal amount for a dedicated pasta boiler.
"Other than our stove, nothing cost us more," said chef Steven Eckerd, who saw the equipment as essential to the transformation of Fitler Dining Room into its new Italian life as Trattoria Carina.
But the saving from extruding your own noodles becomes substantial, according to Studio Kitchen chef and consultant Shola Olunloyo, who's calculated that an 8-ounce portion should cost a restaurant about 20 cents to make, vs. 75 cents for a standard dried pasta — plus the cost of labor, rent, and other ingredients in the dish.
"I've found that customers will often ask with a simple pasta dish, 'Why am I paying $18 for this?' " Kulp said. "But if you're creating something that can't be emulated at home — like a porcini-infused pasta — you give some added value."
In many ways, local accessibility to this specialized equipment was the key to this region's strong embrace of the trend, because Vetri and his crew didn't have to drive far too find their dream extruder. Existing attachments for common home machines, with their plastic parts and lack of horsepower, weren't an option. But  Arcobaleno now has its headquarters in an industrial park in Lancaster.
Owners Maja and Antonio Adiletta moved their business from Vancouver to Pennsylvania in 2002 (originally to Downingtown) to be closer to their market. At the time, about 1,200 of the estimated 1,500 pasta manufacturing companies in the country were on the East Coast, the Adilettas said.
One could argue that Southeastern Pennsylvania is the continent's pasta powerhouse.
However, as the number of industrial manufacturers began to contract significantly, Antonio Adiletta said, the opportunity to enter the restaurant market was suddenly enticing. But few restaurants needed as big a machine as the one at Osteria, where Vetri had Arcobaleno custom-craft dies to make tube pastas with thick enough walls to stand up to classic dishes like the restaurant's sublimely rustic chicken liver rigatoni. Another die, for creste de gallo, an elbow shape with a ruffled edge reminiscent of a cockscomb, was the perfect shape to soak in the gamy juices of a recent special of pheasant ragù.
So Arcobaleno began designing smaller machines to be produced at its facility in Italy, like the 18-pound-an-hour AEX18, which debuted in 2007. The company opened a pasta lab full of equipment available to the culinary students at Drexel University's Center for Food and Hospitality Management, as well as a shiny new test kitchen in the Lancaster office, where chefs could come and play, and custom order dies, like the plus-size half-moon ravioli recently made for Founding Farmers in King of Prussia.
Arcobaleno's roster of restaurant clients quickly expanded to more than 140 in Pennsylvania alone.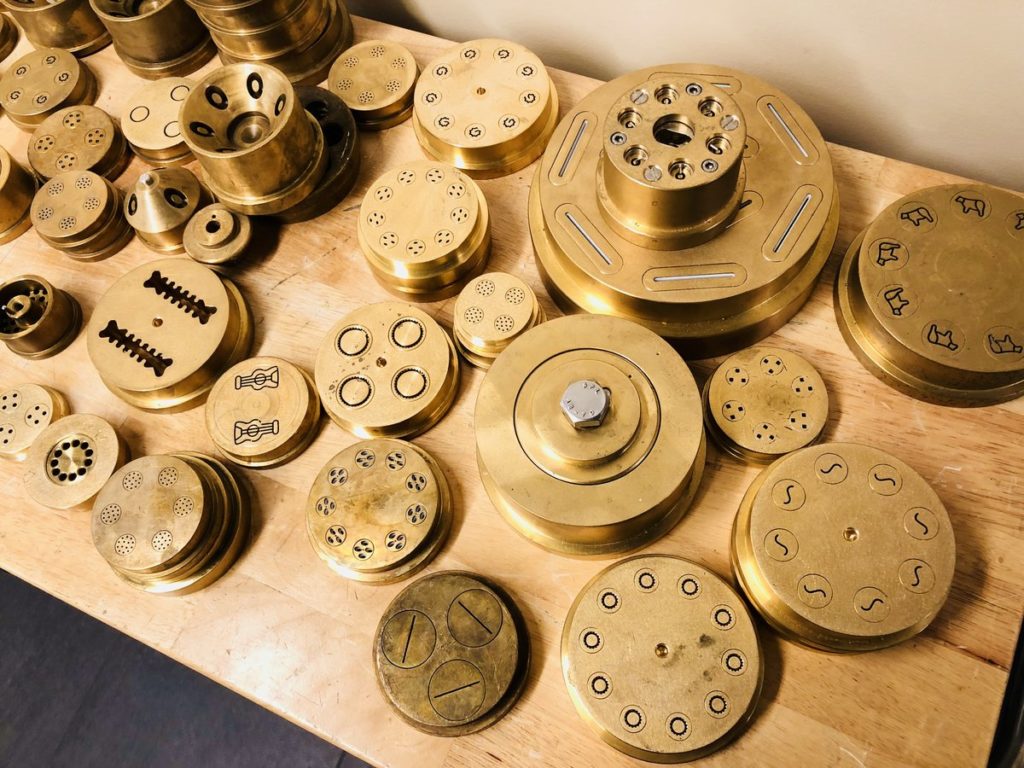 "The availability of those smaller models really did it. And we are lucky to have them here so close," Vetri said of Arcobaleno.
Among the earliest adopters of the new Arcobaleno model was Shola Olunloyo, the talented chef who built a cult following for his private Studio Kitchen dinners. He bought the machine in preparation for his much-anticipated restaurant debut at Speck. The restaurant, which was to be the culinary centerpiece of Bart Blatstein's Piazza at Schmidts development, never happened, falling apart just weeks before its planned opening in 2011. But Speck's small pasta machine — and Olunloyo's strong influence among his peers — has had continued ripple effects.
Olunloyo introduced Talbot and Kamozawa to his extruder, mixing the semolina flour with water for spaghetti, which they cooked right way: "I knew then the restaurant industry was going to change," Talbot said.
Between the two consultants, some of the most creative pasta ideas have been born, from chitarra noodles made with sea urchin and gnochetti sardo infused with vivid green ramps (Olunloyo) to pasta made with salt cod, bolted hard wheat from local Castle Valley Mill, and even a yellow-and-pink blend of canestri elbows infused with ketchup and mustard (Ideas in Food). And they've passed on their enthusiasm to a generation of younger chefs.
Talbot's machine caught the attention of the Plescha brothers at Charcoal BYOB in 2012. ("We were like, Wow, this is like a giant Play-Doh machine,' " Eric Plescha said). They bought their own the next day and transformed their family restaurant into a three-bell destination for unorthodox pastas that now make up to 40 percent of their sales, from Korean-spiced gochuchang gemelli with bacon Bolognese to vivid red creste de gallo elbows tart with cranberry that they paired with an herbaceous chicken thigh gravy to evoke Thanksgiving dinner.
"It's our chance to be creative with something people are familiar with, but offer as a completely different experience," brother Mark Plescha said.
Ela's Jason Cichonski caught his extruder bug from Olunloyo, and it sparked the creation last year of a wholesale pasta business, Little Noodle Co., which he started with a former Lacroix colleague, Justin Lisius, who now lives in Denver, where they have a small retail counter at a gourmet market called Mondo Market. Cichonski has plans to open a quick-serve Little Noodle concept in Philly this year, too. While he looks for that location, his efforts have been focused on collaborating with chefs in other restaurants.
A red-chili-infused pasta brought extra layers of earthy heat to a spicy sausage Calabrese Bolognese at Hungry Pigeon. Nests of buckwheat soba were destined for Lacroix. Red wine rigatoni headed for an oxtail ragù at Rex 1516. Charred onion pappardelle, which look like ribbons of a gray flannel suit, were created for a consommé at Stateside.
"The best part is that I get to work with my buddies across the city and bounce ideas off each other," said Cichonski, who now produces about 100 pounds of pasta week, including a small portion for Riverwards Produce Market in Fishtown, currently his only retail location. "Little Noodle has happened at the right time for me. It's something to lean into and get excited about."
Philadelphia's big noodle revolution, however, has clearly only just begun.