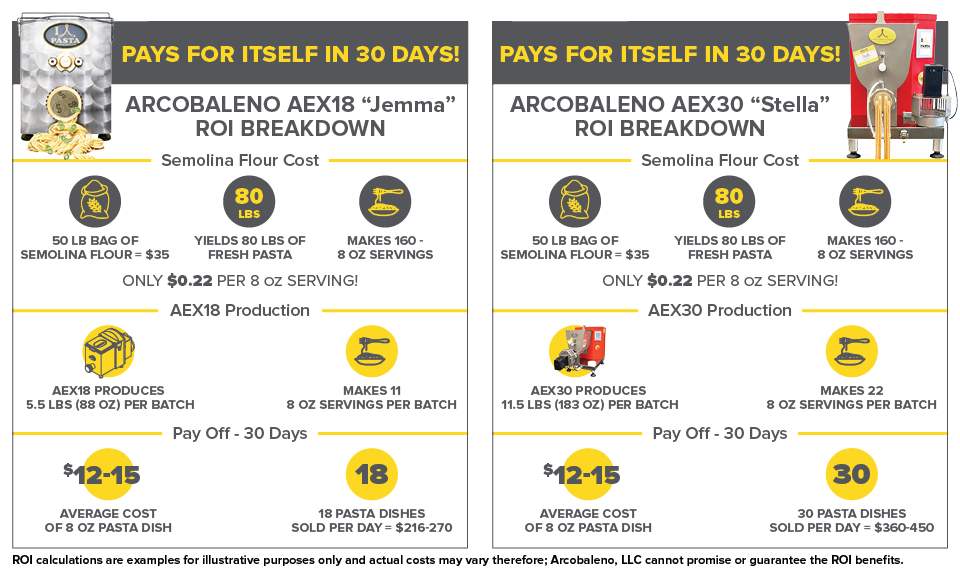 Are you looking for ways to add excitement and interest to your menu while increasing profitability? Consider making fresh pasta in-house using an Arcobaleno countertop extruder. It's a winning proposition from the point of view of the customer, chef, cook, or restaurateur!
For the customer, pasta and noodles are perennial favorites, and for good reason. They're delicious and hit the spot whether the craving is for something light or filling, adventurous or comforting. Fresh extruded pasta and noodles add value and appeal to the menu and differentiate it from the competition.
For the chef, extruding pasta of different flours and flavors and in an endless variety of shapes allows the utmost control over ingredients as well as unlimited creative freedom. Imagine semolina, whole wheat, toasted grano arso, rye, rice, buckwheat, red pimenton, golden saffron, fuchsia beet, and green kale pasta and noodles. From angel hair to ziti, the pastabilities are endless! Furthermore, pasta dishes are a great vehicle for signature sauces and seasonal produce.
For the operator and cook, use and cleaning of countertop pasta extruders is surprisingly straightforward and need for training is minimal. Machines mix and extrude in the same hopper; and cut short pasta automatically. Extruded pasta is not sticky and easy to handle, portion, and store. Not only is the pasta simple to prep and produce, but it can streamline and improve service. With total cooking times of just 1 to 3 minutes, depending upon shape and thickness, there's no need for par-cooking before service and the result is a fresher product with better taste and texture as compared to boxed dry pasta.
And for the restaurateur, a countertop extruder from Arcobaleno, the most trusted name in pasta equipment, has a fantastic return on investment: A $35 50-pound bag of semolina flour, with the addition of only water, makes 80 pounds of fresh pasta and yields a whopping 160 8-ounce servings. With $12-15 being the average cost of an 8-ounce pasta dish, 30 plates of pasta sold per day will generate $360-450 in revenue, meaning a countertop extruder from Arcobaleno, the most trusted name in pasta equipment pays for itself in just 30 days!
This article is published on page 54 of the October 2022 Issue of Total Food Service.